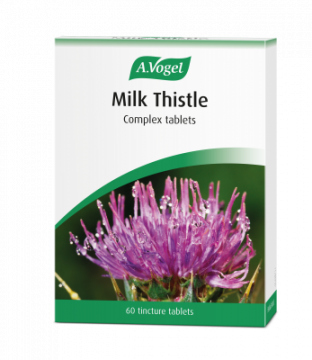 A.Vogel's Milk Thistle Complex was amongst the very first herbal products formulated by Alfred Vogel, one of Switzerland's best known naturopaths. The seeds of Milk Thistle are combined with three other important herbs used in healthcare for centuries – fresh extracts of Dandelion, Artichoke and dried Boldo leaves.
About the Brand
The basis of the A.Vogel health brand is the credo of their founder, the Swiss pioneer of natural health Alfred Vogel (1902-1996) who said; "Nature gives us everything we need to protect and maintain our health".
Fresh, organically grown herbs form the foundation for the effective, scientifically proven herbal medicines, nutritional supplements as well as revitalising food products we offer to you.
With reliable, balanced information on natural healthcare, diet and lifestyle, A.Vogel gives you a better understanding of how you can help yourself achieve a more natural and healthy lifestyle.
A.Vogel helps – since 1923.
Do not exceed stated recommended daily dose. Avoid during pregnancy or if breastfeeding. Keep out of reach and sight of children.
Dosage

Adults: 1 tablet twice daily Children: This product is not recommended for children

Ingredients

Extract of fresh Cynara scolymus(Artichoke) leaves 47.5%, Silybum marianum (Milk Thistle) dried fruit 33%, fresh Taraxacum officinalis (Dandelion) herb and root 12.5% and Peumus boldus (Boldo) dried leaf 7%. Also contains microcrystalline cellulose and glycerol distearate (vegetable source). Each 250 mg tablet contains the equivalent of 485 mg Milk Thistle Complex tincture.

Storage Information

Do not store above 25c, away from direct sources of heat and humidity. Keep in original container