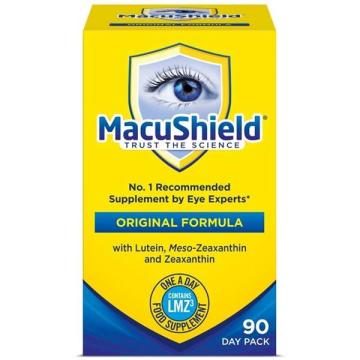 MacuShield Original (90 pack) is the No.1 recommended supplement by eye experts. MacuShield Original is a lutein (10mg), zeaxanthin (2mg) and meso-zeaxanthin (10mg) one-a-day, easy to take, food supplement which combines all three macular carotenoids in a formula developed in collaboration with leading eye experts. Scientific research shows that these three nutrients are found at the back of the eye, at the macula, where they form the macular pigment (yellow colour). Meso-zeaxanthin is particularly concentrated at the centre of this pigment.
Lutein and zeaxanthin can be found in fruits and dark green leafy vegetables and meso-zeaxanthin is present in some species of fish and seafood. The macular carotenoids in MacuShield Original are obtained from marigolds (Tagetes Erecta), specifically grown for this purpose. Macular degeneration is found to be caused by light-induced oxidative damage on our eyes and more specifically the eyes' macula. These three carotenoids have been found in studies conducted by eye care experts to block blue light from reaching the underlying layers of the retina and so reducing the risk of macular degeneration as we grow older.
The three carotenoids in all MacuShield products are a derivative of the marigold flower Tagetes erecta, sourced and grown specifically for the production of lutein, zeaxanthin and meso-zeaxanthin.
MacuShield capsules are made for those concerned with protecting their eyes from the onset or development of macular degeneration. They are also made for patients who may already have started to develop macular degeneration by slowing down its progression and preserving their sight for longer.
Product Benefits:
Protect the eye against light which can lead to degeneration
Acts as a filter for harmful blue light energy
Provides eyes with an optimal level of ocular pigment.
Acts as an antioxidant to absorb harmful molecules and free radicals
Do not exceed the recommended daily dose. Keep out of the sight and reach of children. Pregnant or lactating women should consult a doctor or pharmacist before using this product
Dosage

Take one softgel capsule daily with a meal

Ingredients

Meso-Zeaxanthin: 10mg, Lutein: 10mg, Zeaxanthin: 2mg, Sunflower Seed Oil, Capsule Shell (Gelatin, Glycerol, Beeswax, Colour: Red Iron Oxide), Marigold Extract, Beeswax

Storage Information

Do not store above 25c, away from direct sources of heat and humidity. Keep in original container