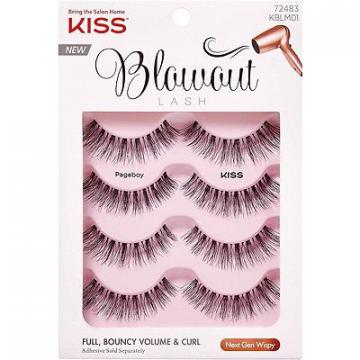 Kiss Blowout Lash 4 Pack Pageboy - Volumizing Back-Tease Technology utilizes a salon styling technique that ups hair volume to create the most body-full, natural looking lashes ever. Unique crisscross pattern blends seamlessly with your natural lashes. 4 pairs of lashes, next gen wispy and cruelty free, reusable & contact lens friendly. Salon styled technology delivers full, bouncy volume & curl. Pageboy features elongated luscious lashes for a more natural look.
KISS is a global leader in professional quality beauty products and treatments, with iconic brands sold in over 100 countries worldwide. Empowering beauty enthusiasts to "Bring the Salon Home" is the KISS WAY since day one–when Mr. John Chang went to work inventing DIY beauty products that lengthened, strengthened and adorned women's nails, with results worthy of a salon visit.
A false lash stash is a beauty saver for "look-at-me-lashes" when mascara alone won't do. Whether your lash goal is a natural look or over-the-top drama, falsies are the easiest (and instant!) way to up your glam factor, and KISS value-priced multipacks are the simplest and most affordable way to keep you set for the season!
Aside from the impact on your look that it creates, falsies actually benefit your natural lashes. Unlike mascara that can make your lashes brittle and weak, false eyelashes act as an alternative to red.
Five reasons to wear fake eyelashes:
They Stay Intact Even During Emotional Times
They're Made of Different Materials
They Help Support Your Real Eyelashes
You Can Go Further With Eyelash Extensions
They Keep Your Skin Healthy
Keep out of the reach of children. In cases of eye contact, wash out the eye thoroughly with plenty of clean water. If irritation or redness persists seek medical attention
Dosage

Lay on top of your natural lash to check fit.

If strip extends beyond your lash line, trim from the outer edge by cutting in between knots for your best fit.

Apply KISS Strip Lash Adhesive to the lash band; wait 30 seconds for adhesive to become slightly tacky.

Apply lash along natural lash line, tapping into place. Hold as adhesive fully dries.

Storage Information

Do not store above 25c, away from direct sources of heat and humidity. Keep in original container