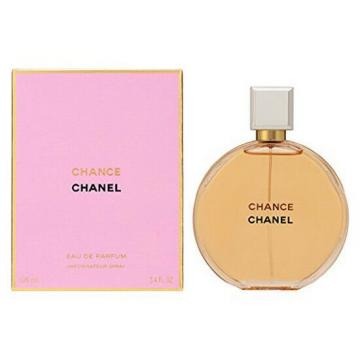 Chanel Chance Eau De Parfum Spray 100ml is a floral fragrance in a round bottle. Unpredictable, in perpetual movement, Chance sweeps you into its whirlwind of happiness and fantasy. An olfactory encounter with chance. A floral fragrance that intertwines Pink Pepper, Jasmine and Amber Patchouli. Laced with White Musks and Vanilla, the eau de parfum is rounder and more enveloping.
It comes and goes, it never stays still... and you only have a few seconds to seize your chance. It is unpredictable and appears when you least expect it, but if you decide to seize it, anything is possible.
"A chance came up, I seized it." Mademoiselle Chanel knew that her real chance was the one of her own creation, a state of mind, a way of being.
The eau de parfum comes in a spray format for an effortless application on skin or inside clothing. A complete perfuming ritual for the bath and body is also used to enhance the fragrance trail.
Chanel's Story
In beauty terms, it all starts with Chanel No5. It is the best-selling fragrance in the world. The world! That's a lot of people all going around smelling the same. It started life back in 1921 when Gabrielle 'Coco' Chanel was already reigning over the Paris fashion world. Created with Russian perfumer to the Tsars, Ernest Beaux, the name for Chanel's first fragrance is said to come from her superstitious belief in the virtues of the number five. Apparently she picked the fifth sample presented to her by Beaux and the simple name stuck. It was the first time that a fashion house had created a perfume and it soon became a huge hit. At the same time, Chanel started to expand and go global launching a cosmetics line (in 1924) and a range of skincare products (in 1929).
In the 50s, Chanel No5 really was the perfume to be, erm, smelt in. In a 1954 interview, Marilyn Monroe famously answered the question "What do you wear to bed?" with the line "Just a few drops of No5". The popularity of the perfume grew and grew but this wasn't necessarily a great thing. In the 70s it was decided that No5 had lost its air of exclusivity so it was reinvented and made less widely available. Huge advertising campaigns were adopted using big name directors and big name stars - a Chanel tradition that lives on to this day.
Benefits of Eau De Parfum
It can make you feel happy
As if perfume couldn't up its game any more… it's official – the smell of something you like can make you feel happier. It has been proved that smelling your favourite scent reduces stress and even improves self-confidence. Whoa! And when you're wearing your signature scent, who doesn't instantly feel happier getting a compliment or two?
It can help with your cravings
Guys, listen up. Been craving your fave food? Well, we have the answer to change your life. A gourmand perfume, of course! Gourmand scents are ones that contain the edible, sweet smells that you'd most commonly find in a dessert – that's what makes them so delicious.
It can help you stand out
It's time you really put your perfume into perspective. To know just how life-changing it really is, we challenge you to wear a sophisticated, standout scent to your next job interview. It will help you stand out from the crowd and define your incredible personality
It brings back memories
There are life-changing perfumes and then there are the ones that bring back memories. They may make you smile, laugh or cry, all of which are great for your mind. So whether you're smelling a scent of someone you miss or one you wore on your favourite holiday, you'll benefit from the emotional release. So prepare to experience a whole raft of incredibly personal emotions when you smell a special fragrance.
Directions

The eau de parfum comes in a spray format for an effortless application on skin or clothing.

Ingredients

ALCOHOL | PARFUM (FRAGRANCE) | AQUA (WATER) | LIMONENE | LINALOOL | BENZYL SALICYLATE | HEXYL CINNAMAL | HYDROXYCITRONELLAL | CITRONELLOL | COUMARIN | GERANIOL | CITRAL | BENZYL BENZOATE | EUGENOL | BENZYL ALCOHOL | BUTYL METHOXYDIBENZOYLMETHANE | BHT | CI 19140 (YELLOW 5) | CI 14700 (RED 4) | CI 42090 (BLUE 1) | IL17-1

Storage Information

Do not store above 25c, away from direct sources of heat and humidity. Keep in original container