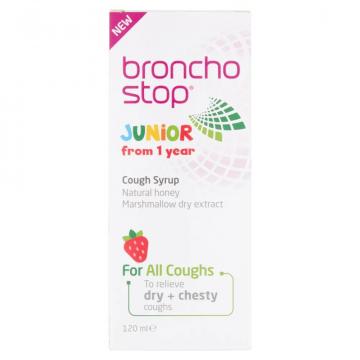 Bronchostop Junior Cough Syrup 200ml syruphas been specifically formulated for children. This cough syrup provides a protective balm for the throat, helping to relieve dry or irritating coughs. With natural honey and marshmallow extract this deliciously flavoured cough medicine will be easier for your child to use when they have an irritating cough.
Made with mainly natural ingredients and alcohol free the Bronchostop junior syrup 200ml quickly and reliably relieves any cough that is associated with a cold and provides relief from both dry and chesty coughs. Bronchostop junior is not only suitable for use during the day but is also ideal for night time use. Through its soothing effect, it helps your child to have a peaceful and restorative sleep.
Bronchostop junior can be taken during the day and at night. For best therapeutic results it is recommended to take Bronchostop junior as frequently as recommended. If you are unsure or have any questions, consult your doctor or pharmacist.
Product Features & Benefits:
Alcohol free
Works for all types of coughs
Lactose-free and gluten-free
Creates a protective barrier
Soothing effects
Free of artificial colours
Warnings and cautions:
Use in patients with intolerances to sugars: Patients with rare hereditary fructose intolerance or glucose-galactose malabsorption should not take this product as it contains honey
Use in patients with diabetes: 15 ml Bronchostop Junior contains 0.3 CU (carbohydrate units)
Use in pregnancy and breastfeeding: The use of Bronchostop Junior is not recommended during pregnancy and breastfeeding
Use in children: Children under 3 years of age should consult with a doctor to exclude more serious diseases being present. Use in children under 1 year of age is not recommended
Concomitant use of Bronchostop junior with other medicines: If you take other medicines it is advised to take them half hour to one hour before or after intake of Bronchostop junior
Please consult a doctor if: your symptoms persist or worsen after 5 days, Dyspnoea, fever or purulent sputum occurs during the use of Bronchostop junior.
Bronchostop junior contains methyl4-hydroxybenzoate and propyl-4-hydroxybenzoate as preservatives. These may cause allergic reactions (possibly delayed).
Consult your doctor or pharmacist if you have an underlying medical condition, are taking any other medication or complementary therapy, or if symptoms persist. Seek advice if you suffer from allergies
Dosage

Children aged 6 to 11 years: 15 ml up to 4 times daily. Children aged 4 to 5 years: 7.5 ml up to 4 times daily

Children aged 2 to 3 years: 5 ml up to 4 times daily. Children aged 1 year and above: 5 ml up to 3 times daily

Ingredients

Each 15 ml of Bronchostop Junior contains: 143 mg marshmallow dry extract, 750 mg honey. Xylitol, xanthan, glycerol anhydrous, citric acid, strawberry aroma, methyl-4hydroxybenzoate, propyl-4hydroxybenzoate, purified water

Storage Information

Do not store above 25c, away from direct sources of heat and humidity. Keep in original container