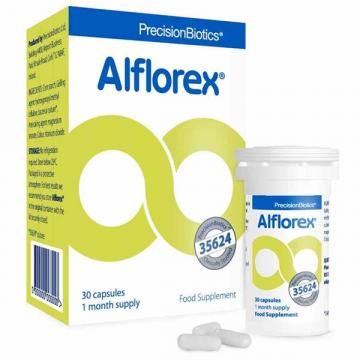 Alflorex is the best-selling, unique probiotic which is different to all the others on the market. It can help ease the symptoms of Irritable Bowel Syndrome (IBS) and other digestion related symptoms including bloating, excess gas or wind and painful. The live culture good bacteria in this capsule is the unique and elite B.infantis 35624. Has been clinically tested in IBS and proven to reduce abdominal discomfort, passage of gas and bloating distention.
The bacterial culture in Alflorex occurs naturally in the human gut. It's part the Bifidobacterium family, one of the first kinds of bacteria passed by mothers to their babies at birth. To ensure this natural culture reaches your gut with its properties intact, a special formulation has been created and confirmed it's activity in the gut using the highest standards of scientific testing and human clinical trials. The pure bacterial culture in each of our products is also stable at room temperature and does not need refrigeration.
Should be taken with water or milk or less acidic drinks like soya, almond or rice milks. A single Alflorex capsule contains around 1 billion live bacteria, or 1x109 colony forming units (CFUs), at the time of manufacture. The quantity of bacteria provided in each capsule has been chosen for optimal balance in the gut. The dose in the capsule remains effective throughout its shelf life. It stays in your gut for as long as you continue to take it. It performs its action in the gut and then will naturally be swept out by regular bowel movements. By taking a single capsule of Alflorex every day you can ensure your gut remains primed.
Discount Medicines also sell other PrecisionBiotics Gastroenterologists supplements Alflorex 30 Chewable Tablets and Zenflore 14s and 30s Capsules.
Do not exceed the stated dosage. Food supplements should not be used as substitutes for a varied diet and a healthy lifestyle. Keep out of the reach of children.
Directions

Take one capsule daily with or without food at any time of the day. If there is an issue with swallowing the capsule, the capsule can be opened and sprinkled over food or mixed with fluids.

Ingredients

Corn starch, hydroxpropyl methyl cellulose, bacterial culture, magnesium sterate

Storage Information

Do not store above 25c, away from direct sources of heat and humidity. Keep in original container