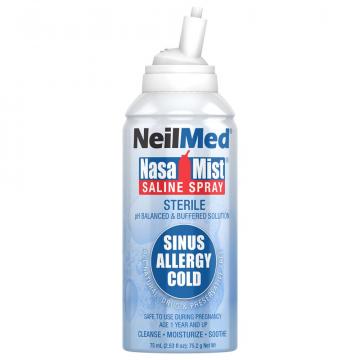 Neilmed Nasamist Saline Spray 75ml is a sterile natural soothing saline spray. Applying a gentle fine mist in the nose is an excellent way to keep the nasal passages moist. NasaMist Saline Spray comes in isotonic, pediatric and hypertonic concentration. Is is a natural sterile soothing saline spray. It applies a gentle and fine mist into the nose in order to keep the nasal passages moist and to alleviate symptoms from allergies and sinus problems.
Use For:
Nasal Allergies and Dryness
Sinusitis, Rhinitis and Allergic Asthma
Post Nasal Drip
Sinus Pressure & Nasal Congestion
Nasal Symptoms from Flu and Cold
Nasal Irritation from Occupational and House Dust
Fumes and Animal Dander
Grass, Pollen, Environmental Pollutants and Smoke
Allergies occur when your immune system reacts to a foreign substance such as pollen, bee venom or pet dander or a food that doesn't cause a reaction in most people. Your immune system produces substances known as antibodies. When you have allergies, your immune system makes antibodies that identify a particular allergen as harmful, even though it isn't. When you come into contact with the allergen, your immune system's reaction can inflame your skin, sinuses, airways or digestive system.
Sinus congestion occurs when a condition causes fluid to become trapped in the sinuses, making them feel blocked and painful. Many natural home remedies can help a person feel better, including hydration, steam inhalation, and applying a warm, wet towel to the face. The mucus that builds up in sinuses causing sinus congestion also results in sinus pain and pressure. You may feel a sinus headache, have a stuffy or runny nose and experience pressure across your cheeks or other areas of your face.
System designed for single user to reduce the risk of contamination. Do not completely block or occlude nasal passage during use to avoid any pressure in the nose or ears.
Keep out of reach from children. Contents under pressure, please do not puncture or incinerate. Consult physician before use on children younger than six months.
Dosage

Insert tip of actuator into nostril and press gently until adequate volume has been sprayed and the nasal passages are moist.

Repeat for the other nostril. For babies and children, do not insert nozzle beyond the flange.

Ingredients

USP grade purified water, sodium chloride (9mg/ml) & sodium bicarbonate (0.5mg to 1mg/ml) (Purity level 99% or higher)

Storage Information

Do not store above 25c, away from direct sources of heat and humidity. Keep in original container