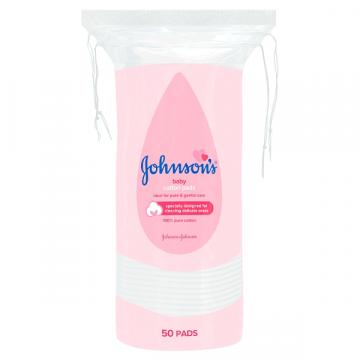 When a baby is born, their skin is at its most delicate. That's why we perfected our products over 125 years so they're now even more gentle for all. Johnson's Baby Cotton Pads contain 50 pads and are ideal for pure & gentle care. The cotton pads are also useful for applying and removing make-up. Designed to maintain their shape and not leave unwanted cotton fibres on baby's skin.
Product Features:
Ideal for pure & gentle care
Specially designed for cleaning delicate areas
Soft & gentle for use on delicate skin
Naturally absorbent with 100% pure cotton
Perfect for baby. Perfect to you
More opportunities for skin-to-skin touch and bonding time with your baby will give them a more healthy development. 
Touch
Studies have shown that routine touch and massage can lead to improved physiological, cognitive, emotional and social development. Specifically, routine massage has been shown to improve cognitive performance and increase alertness and attentiveness. Your baby's first emotional bonds are built from physical contact, and these serve as the foundation for emotional and intellectual development later in life. We believe this to be truly special.
Scent
Your baby is able to smell before he's even born - about 28 weeks into pregnancy. Enjoyable and familiar scents have been proven to improve mood, calmness and alertness, and the scent of a mother can help reduce crying. Additionally, scent is important from day one because newborns use the sense of smell to familiarise themselves more than any other sense.
Warning: Flammable. To avoid danger of suffocation, keep plastic bags away from children and pets. Keep out of reach of children.
For external use only. This product is manufactured using natural fibres & may contain small pieces of cotton seed, husk or stalk.
Directions

Use with water or gentle baby cleanser to help cleanse baby's skin.

Ingredients

Made from 100% pure cotton.

Storage Information

Do not store above 25c, away from direct sources of heat and humidity. Keep in original container