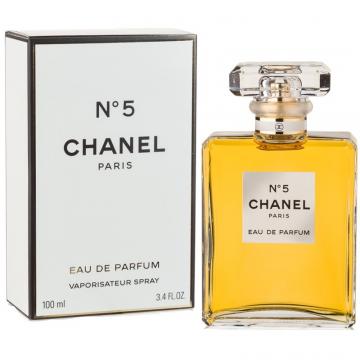 Chanel No5 Eau De Parfum 100ml is the very essence of femininity. An aldehyde floral bouquet housed in an iconic bottle with a minimalist design. A timeless, legendary fragrance. The eau de parfum draws inspiration from the parfum with which it shares its floral aldehyde signature. This floral bouquet composed around May Rose and Jasmine features bright citrus top notes. Aldehydes create a unique presence, and the smooth touch of Vanilla an incredibly sensual trail. To revive the notes of the fragrance throughout the day, the spray comes in a practical travel format you can slip into your purse and take with you anywhere. A complete perfuming ritual for the bath and body is also available to enhance the scent trail of the fragrance.
Inspiration
In 1921, Gabrielle Chanel asked Ernest Beaux to create "a woman's perfume with a woman's scent", rare and powerful. The nose presented her with a visionary composition that made unprecedented use of aldehydes. Mademoiselle chose the fifth sample of the fragrance, and decided to name it simply N°5. For this new fragrance, she opted for a bottle with a revolutionary design, adorned with a white label and topped with a faceted cabochon. In 1986, Jacques Polge, the Chanel nose since 1978, reinterpreted his predecessor's composition to create a fuller version of N°5: the eau de parfum
In order to discover how a particular fragrance reacts with your body chemistry, we recommend that you allow a few hours to fully experience the fragrance and formulation. Fragrances are usually composed of top, middle and base notes. The top note imparts a first impression to your nose; the middle note unfolds a few moments after application of the perfume; and the base, or heart note, is the clinging impression that embraces the wearer for hours. Chanel has a special way of wearing fragrance called Fragrance Layering. To fully develop your signature fragrance, we recommend beginning with Bath Soap, Bath Gel or Essential Bath Oils. After the bath, apply luxurious Body Lotion or Body Crème to silken, soften and soothe skin. Then apply After Bath Powder, spray on an invigorating Eau de Toilette and touch Eau de Parfum on pulse points. As Mademoiselle Chanel said, "Perfume should be worn wherever you expect to be kissed."
Directions

The eau de parfum comes in a spray for smooth and supple application on skin or inside clothing.

Ingredients

ALCOHOL, AQUA (WATER), PARFUM (FRAGRANCE), BENZYLE ALCOHOL, BENZYL BENZOATE, BENZYL CINNAMATE, BENZYL SALICYLATE, CINNAMYL ALCOHOL, CITRAL, CITRONELLOL, COUMARIN, EUGENOL, FARNESOL, GERANOIL, HYDROXYCITRONELLAL, ISOEUGENOL, LOMONENE, LINALOOL, ALPHA-ISOMETHYL IONONE, BUTYL METHOXYDIBENZOYL, METHANE, CI 19140 (YELLOW 5), CI 15985 (YELLOW 6), CI 17200 (RED 33) CI 14700 (RED 4), IL95-I

Storage Information

Do not store above 25c, away from direct sources of heat and humidity. Keep in original container