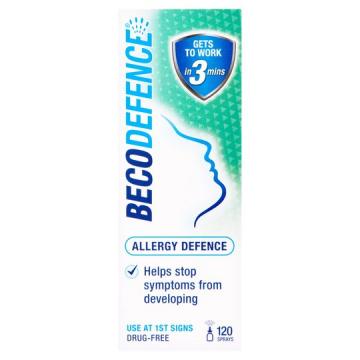 Becodefence Adult Nasal Spray is clinically proven to reduce allergic rhinitis symptoms, as it blocks allergens that cause the allergic reaction. Becodefence nasal spray works directly where the allergic reaction starts, on the respiratory mucosa of the nose. Becodefence's patented Nasya technology uses a combination of oils and emulsifiers, which give unique transformation properties from gel to liquid for easy dispersion. Upon settling on the nasal mucosa, Becodefence reverts to its original gel-like consistency to form an allergen-impermeable micro-gel barrier. As most airborne allergens come in through the nose, Becodefence is an ideal solution for hay fever and allergic rhinitis.
Becodefence forms a lining on the inside of the nose, this protective barrier helps to deactivate pollen and gets to the root of the problem – it can also address all major hay fever symptoms, without the side-effects.  This means it can be used to help prevent the onset of symptoms as well as treating them.
Provides protection against hay fever and pet allergies

Clinically proven

Reduces sensitivity to allergens

Suitable for pregnant women

patented Nasya technology

Gets to work in three minutes
Use Becodefence to treat a range of conditions including:
Sneezing

Itchy or watery eyes

Hayfever

Runny nose

Nasal congestion

Allergic Rhinitis
Allergic rhinitis
Allergic rhinitis is inflammation of the inside of the nose caused by an allergen, such as pollen, dust, mould or flakes of skin from certain animals. Allergic rhinitis typically causes cold-like symptoms, such as sneezing, itchiness and a blocked or runny nose. These symptoms usually start soon after being exposed to an allergen. Some people only get allergic rhinitis for a few months at a time because they're sensitive to seasonal allergens, such as tree or grass pollen. Other people get allergic rhinitis all year round.
Allergic rhinitis is caused by the immune system reacting to an allergen as if it were harmful. This results in cells releasing a number of chemicals that cause the inside layer of your nose (the mucous membrane) to become swollen and too much mucus to be produced. Common allergens that cause allergic rhinitis include pollen (this type of allergic rhinitis is known as hay fever), as well as mould spores, house dust mites, and flakes of skin or droplets of urine or saliva from certain animals.
Hay Fever
Hay fever, also called allergic rhinitis, causes cold-like signs and symptoms, such as a runny nose, itchy eyes, congestion, sneezing and sinus pressure. But unlike a cold, hay fever isn't caused by a virus. Hay fever is caused by an allergic response to outdoor or indoor allergens, such as pollen, dust mites, or tiny flecks of skin and saliva shed by cats, dogs, and other animals with fur or feathers (pet dander).
Hay fever signs and symptoms can include:
Runny nose and nasal congestion
Watery, itchy, red eyes (allergic conjunctivitis)
Sneezing
Cough
Itchy nose, roof of mouth or throat
Swollen, blue-colored skin under the eyes (allergic shiners)
Postnasal drip
Fatigue
Read package insert. Does not cause drowsiness. Use only as directed. Keep out of the sight and reach of children.
Dosage

Apply 1 to 2 sprays into each nostril, 2 to 3 times a day (works up to 6 hours)

Ingredients

Bentonite Veegum, Xanthan Gum, Glycerol Monostearate, Potassium Phosphate, Dipotassium Phosphate, Glycerin, Sesame Oil, Water, Mixed Tocopherols, Spearmint Oil, Preservatives (Phenoxyethanol, Caprylyl Glycol, Potassium Sorbate)

Storage Information

Do not store above 25c, away from direct sources of heat and humidity. Keep in original container