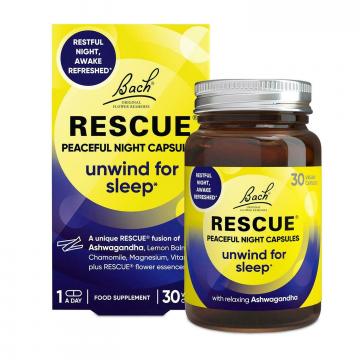 Quality sleep after a demanding day can be difficult unless you're relaxed and ready for bed. Bach Rescue Peaceful Night Capsules are designed to help you unwind and relax for a restful quality sleep, so you awake feeling refreshed. They are a unique fusion of Ashwagandha, Lemon Balm, Chamomile, Magnesium, Vitamin B6 plus Bach Rescue Night flower essences which support a peaceful night's sleep and help you wake up feeling refreshed.
Product Benefits:
Ashwagandha contributes to optimal relaxation.
Chamomile contributes to optimal relaxation & normal healthy sleep.
Magnesium & Vitamin B6 contribute to the reduction of tiredness & fatigue.
Rescue Night Flower Essences blend with White Chestnut to switch off a racing mind.
History of Rescue Remedy
The system of plant and flower-based essences was developed in the 1930s by Dr Edward Bach, a physician and homeopath who was convinced that emotional wellbeing was key to overall health. He spent many years exploring the use of flowers and plants to develop his simple gentle system of 38 flower essences, setting up The Bach Centre in Oxfordshire, England where we continue to prepare the essences exactly as he did.  
Nelsons link with the Bach Original Flower Remedies goes back to the 1930s and with Dr Bach himself. As demand for the essences grew, Dr Bach would supply concentrated essences to Nelsons Homeopathic Pharmacy who would make up the stock essences and make them available to the public. Over the years, the relationship between The Bach Centre and Nelsons continued to grow and we now manufacture and distribute the essences across the world.
For adults and children over 12 years If you are taking any medication are pregnant or breastfeeding, please consult a qualified healthcare practitioner before use.
Keep out of reach of children. Food Supplements should not be used as a substitute for a balanced diet and healthy lifestyle
Directions

Adults and children over 12 years simply take one capsule before bedtime as part of a balanced sleep management routine.

Ingredients

Magnesium citrate, bulking agent (microcrystalline cellulose), capsule shell (hydroxypropyl methyl cellulose, carrageenan, potassium acetate), Withania somnifera (ashwagandha) root extract, Matricaria recutita (chamomile) flower extract, magnesium oxide, Melissa o­cinalis (lemon balm) leaf extract, anti-caking agents (magnesium stearate, silicon dioxide), vitamin B6 (as pyridoxine hydrochloride), flower essences (Clematis vitalba, Helianthemum nummularium, Impatiens glandulifera, Ornithogalum umbellatum, Prunus cerasifera and Aesculus hippocastanum (Rescue Night)

Storage Information

Do not store above 25c, away from direct sources of heat and humidity. Keep in original container