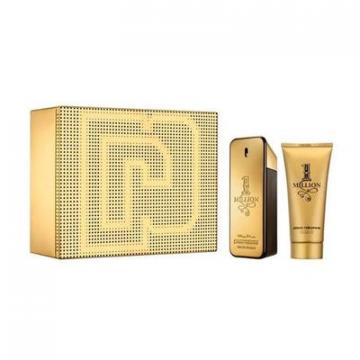 Paco Rabanne 1 Million; Love life's danger, yet display your brilliance. Living is not about obeying all the rules. Just follow your dreams. 1 Million perfume: a beautiful, spicy leather fragrance for the most sassiest gentleman. The beautiful aromas of genuine leather. Yet, spicy and fresh. A showy fragrance that disturbs from the first notes. A complex eau de toilette combining sweet, juicy mandarin and peppermint. Creating intrigue and freshness... with lively pink cinnamon. An ambiguous and classy fragrance, to display a man's spirit and passion! The signature amber-leather is distinctive and rich. White wood, matte blonde leather, amber, sexy patchouli. A perfume to refresh, but ultimately confuse.
Insolent leather spice. Captivate first, then conquer. Masculine rose-cinnamon. Blonde leather, white wood. Hot!
Gift Set Includes: Paco Rabanne's 1 Million in Eau De Toilette 100ml & Shower Gel 100ml
Blood mandarin and peppermint. 
Absolute rose and cinnamon. 
Leather and amber ketal. 
Love the danger and the flashes of brilliance. A beautiful leather. Spice. Fresh. Captivate first, then conquer. 
A priceless gold bar display. Huge, precious and perfectly formed. Inspiration: From the precious metal architectural world of Paco Rabanne. Creation: Noé Duchaufour-Lawrance. Special signs: Minimal flamboyance. Timeless. Adore. The art of being flamboyant. Love the danger and the flashes of brilliance. Don't obey anyone. Except your fantasies. 1 Million eau de toilette intrigues, jostles, a bad boy. A perfume for men that literally seduces. A gentleman. A spicy fragrance with notes of amber-leather and tangerine. Confusing.

About Paco Rabanne
Established in 1966, Parisian fashion house Paco Rabanne has asserted a distinctive identity resulting from the synthesis of cutting-edge contemporary design and radical craft. Mr Paco Rabanne was born Francisco Rabaneda y Cuervo in 1934 in Spanish Basque Country. At the age of five, he and his mother, a head seamstress at Balenciaga, escaped the Spanish Civil War by fleeing to France, where he assumed the name Paco Rabanne. By the early 1960s, after training as an architect, he applied his skills towards avant-garde accessory design, proposing unique creations for several haute couture houses.
For the debut of his namesake brand in 1966, he presented "Manifesto: 12 unwearable dresses in contemporary materials." Over the next few years, he would experiment with looks made from moulded plastics, hammered metal, aluminum jersey and knitted fur that were at once sculptural and seductive. His iconic chainmail dresses helped define an era of shape-shifting fashion and remain emblematic of the house still today.
Shortly after Paco Rabanne established his fashion brand, Spanish group Puig acquired the license for Paco Rabanne perfumes in 1968, thus setting in motion decades of memorable fragrances bearing the Paco Rabanne name. From Calandre (1969), a bold floral that defied traditional perfumery, debuted in 1969. Its name took cute from the chrome-plated front grille of a Rolls Royce; its bottle, modern and monolithic in glass and metal, was inspired by the United Nations Headquarters in New York.
Eau De Toilette
An eau de toilette is a perfume with a low concentration of essential oils. The higher the concentration of the eau de toilette, the longer it will last. However, the orchestration of the perfume is crucial, and its good hold will depend on the talent of the perfumer (and not only on concentration). An eau de toilette should be applied on clothes in a special way to ensure perfect diffusion.
Directions

Spray it once you are dressed. You should trace a large triangle with the fragrance. Start spraying from the top of your hair (this won't damage your hair if sprayed from a distance), then inside of your jacket, and finish at the hem of your garment.

Ingredients

ALCOHOL DENAT, PARFUM (FRAGRANCE), AQUA (WATER), COUMARIN, LIMONENE, HYDROXYCITRONELLAL, ALPHA-ISOMETHYL IONONE, LINALOOL, BENZYL ALCOHOL, CINNAMAL, EUGENOL, CITRAL, ISOEUGENOL, CITRONELLOL, GERANIOL

Storage Information

Do not store above 25c, away from direct sources of heat and humidity. Keep in original container