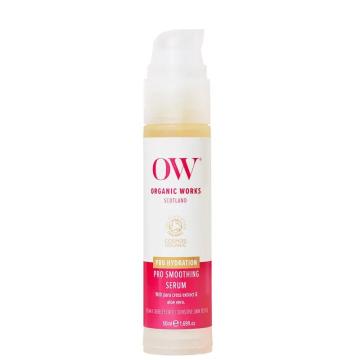 OW Organic Works Pro Smoothing Serum 50ml restores radiance to dull and uneven complexions and with the power of Hyaluronic Acid, intensely hydrates your skin day and night! Enriched with Para Cress Extract, an ingredient known for its effectiveness at improving the appearance of fine lines by smoothing the surface of the skin and protecting it from environmental damage.
This rich Organic formula leaves skin soft to the touch, whilst soothing Aloe Vera calms any inflammation or skin sensitivity. Suitable for all skin types and certified by Soil Association to the COSMOS Organic standards. 99.52% of the total ingredients are from natural origin, 91.72% of the total ingredients are from organic farming.
Product Features
Certified COSMOS Organic
100% Vegan
100% Cruelty Free
Suitable For All Skin Types
Clinically Tested for Sensitive Skin
98% ingredients are from natural origin
Enriched with Para Cress Extract & Aloe Vera
For Best Results: Use after the Organic Works Refining Flower Tonic, also from the Pro Hydration range, to lock in a deeper level of hydration ahead of Moisturising.
Benefits of Hyaluronic Acid
Promotes healthier, more supple skin
Hyaluronic acid supplements can help your skin look and feel more supple. Hyaluronic acid is a compound found naturally in the skin, where it binds to water to help retain moisture. However, the natural aging process and exposure to things like ultraviolet radiation from the sun, tobacco smoke, and pollution can decrease its amounts in the skin. Taking hyaluronic acid supplements may prevent this decline by giving your body extra amounts to incorporate into the skin. Hydrated skin also reduces the appearance of wrinkles, which may explain why several studies show that supplementing with it can make skin appear smoother.
Relieve dry eye and discomfort
Since hyaluronic acid is excellent at retaining moisture, it's often used to treat dry eye. Contact lenses that contain slow-release hyaluronic acid are also being developed as a possible treatment for dry eye. In addition, hyaluronic acid eye drops are frequently used during eye surgery to reduce inflammation and speed wound healing. While applying them directly to the eyes has been shown to reduce dry eye symptoms and improve overall eye health, it is unclear whether oral supplements have the same effects.
Directions

After cleansing the skin, and before moisturising, apply a small amount to the face and neck, avoiding the eye area, with gentle upward strokes. Can be used as part of both morning and evening skin care routines!

Ingredients

Aqua (Water), Alcohol Denat., Propanediol, Glycerin, Chondrus Crispus Powder, Sodium Hyaluronate, Acmella Oleracea Extract, Benzyl Alcohol, Aloe Barbadensis Leaf Juice Powder, Dehydroacetic Acid, Citric Acid From Organic Agriculture

Storage Information

Do not store above 25c, away from direct sources of heat and humidity. Keep in original container