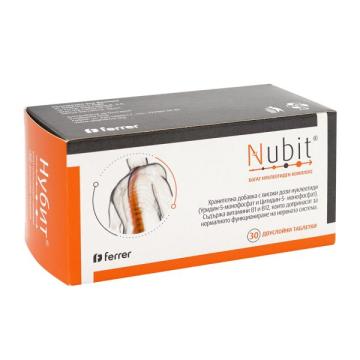 Nubit is a nutritional supplement with high doses of nucleotides (Uridine-5-monophosphate and Cytidine-5-monophosphate). It contains vitamins B1 and B12, which contribute to the normal functioning of the nervous system.
Nubit supports the normal functioning of the peripheral nervous system. It has a specific composition leading to endogenous activation of the recovery processes of the peripheral nerves. It helps restore the myelin sheath and axon membrane by improving nerve conduction.
The duration of reception depends on your needs. Please talk to your doctor or pharmacist. Nubit is well tolerated and over a long period of time.
Food supplements are not an alternative for a balanced and varied diet and a healthy lifestyle.
Directions

Take one tablet a day with a glass of water.

Ingredients

One Nubit tablet contains Uridine-5-monophosphate (300 mg) and Cytidine-5-monophosphate (100 mg) in combination with vitamins B1 (1.1 mg) and B12 (2.4 µg).
Does not contain gluten. Does not contain lactose. It is suitable for diabetics.

Storage Information

Do not store above 25c, away from direct sources of heat and humidity. Keep in original container