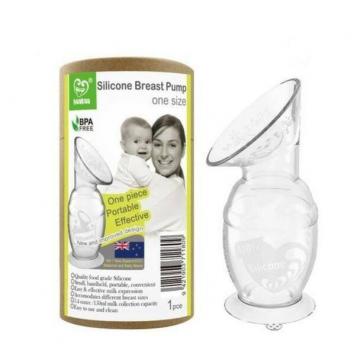 The revolutionary Haakaa Silicone Breastpump is really the simplest way to express anytime, anywhere. It suctions onto the breast and then the pump does the work for you, drawing your milk naturally. So you can use it solely to catch additional milk or while travelling, or it can completely replace your electric pump.
The Haakaa Silicone Breast Pump is made of a single piece of 100% silicone and provides an easy, eco-friendly and effective pumping experience! Forget large, loud and complicated automatic pumps that cost hundreds and need to be pulled to pieces and cleaned thoroughly every time you use them. Wash before and after each use. Although dishwasher safe, we recommend hand washing in warm soapy water and rinsing and drying thoroughly. Do not use any bleach based cleaners or tablets to sterilize or clean your Haakaa products.
The Haakaa brand is loved and recommended by mums, doulas and lactation consultants around the world. Try haakaa today, surely over 1 million mums can't be wrong! The ingenious Haakaa Silicone Breast Pump is our most popular product and is a must-have in any baby bag. Forget huge, loud and complicated automatic pumps – our Silicone Breast Pumps are made with 100% food grade silicone, are super simple to use and will change your life. Squeeze, press to your breast and let the pump do the work for you as it draws your milk using natural suction! The Gen. 2 Haakaa Silicone Breast Pump comes with a suction base that sticks to flat surfaces to prevent accidental spills.
Haakaa Silicone Breast Pumps are the most portable and travel-friendly pump you'll find. They fit perfectly into any handbag or baby bag, letting you pump on long distance trips, planes, car rides, at family BBQ's or anywhere you would like to express discreetly and quickly. They don't need any cords, cables or batteries and are 100% silent. They're super green-friendly and are safe for mums, babies and our environment.
Features: 
Soft and comfortable 100% food grade silicone
BPA, PVC and phthalate-free
Compact size to fit perfectly into any handbag or baby bag
No cords, batteries or assembly required
Easy to use and clean and dishwasher safe
Suction base ensuring your pump will not fall over
Saves every drop of breastmilk produced instead of losing it in nursing pads.
Dosage

Suction your breast pump over your nipple. Your nipple should be positioned inside the neck of the pump and feel comfortable.

Once the pump is attached gently squeeze the bottom of the pump to encourage let down

Once milk begins to flow do not touch your pump and allow the container to fill with milk

Remove once your pump is full or you have stopped feeding

Place your lid over your pump to stop contamination. Store milk in a glass or silicone container in the fridge for up to 3 days

Storage Information

Do not store above 25c, away from direct sources of heat and humidity. Keep in original container