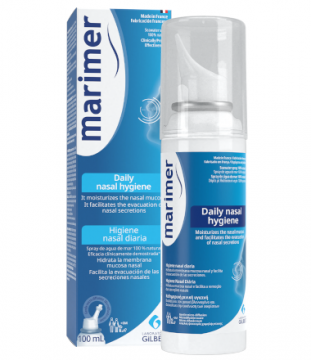 Marimer Daily Nasal Hygiene 100ml is a seawater solution naturally high in mineral salts and marine dietary elements. The formula helps to decrease symptoms of allergy, and facilitates the gently evacuation of nasal secretions that can sometimes make life miserable.  May be used daily over a prolonged period. Read the directions carefully before use. Ask your pharmacist for advice. This medical product comes with a pocket valve system and propellant gas, and is environmentally friendly (no external contamination). 
Why use marimer daily nasal hygiene?
For a daily nasal hygiene.
It moisturizes the nasal mucous.
It facilitates the evacuation of nasal secretions.
It is recommended in cases of allergic rhinitis.
All products in the Marimer sprays range are made using quality seawater rich in dietary-minerals such as copper, zinc and manganese, known for their therapeutic properties in treatment of respiratory infections.
All our products are made in France: from pumping in Brittany in our exclusive site selected for its water quality, the Iroise Sea forms, to manufacturing in our plant in Normandy. Seawater from the Iroise Sea has been selected because it's ideally mixed by marine currents, free of external polluants and naturally rich in trace elements.
All of the benefits of this seawater, rich in mineral salts, are preserved as micro-filtration is used for sterilisation. This is a mechanical principle which eliminates all impurities while preserving the properties and trace elements of the seawater.
History
In 1897, the French biologist René Quinton proved that there were similarities between the mineral composition of seawater and the interstitial milieu and blood plasma. He concluded that the human body must surely react well to treatments and preparations that contain substances from the sea.
Sterilised seawater that has been matched to the molecular concentration of human plasma through dilution with sterilised water is called "Quinton Plasma".
In his book "Eau de mer, Milieu organique", (Seawater: An Organic Milieu) René Quinton proved that:

1. Seawater is not toxic
2. Seawater can replace the entire internal milieu
3. White blood cells, the most fragile cells of an organism, survive in it easily
4. The formulation of seawater goes well beyond physiological saline solution
5. The use of seawater is much more judicious
6. Seawater is a major therapeutic agent and the limits of its use are yet to be determined
Therefore, isotonic marine plasma, thanks to its richness in vital soluble elements, is the physiological fluid of living things.
Directions

1 to 2 sprays per nostril, 1 to 3 times a day as needed.

Ingredients

Isotonic sea water (equivalent to 9 g/L of salts), purified water.

Storage Information

Do not store above 25c, away from direct sources of heat and humidity. Keep in original container