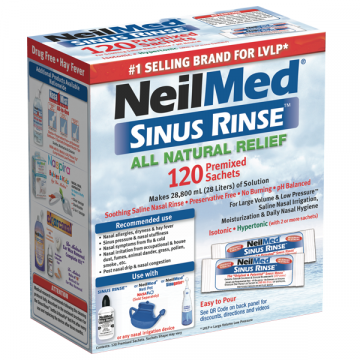 Neilmed Sinus Rinse 120 Sachets is used for nasal allergies, dryness and hay fever, sinus pressure & nasal stuffiness, nasal symptoms from cold & flu, nasal irritation from occupational & house dust, fumes, animal dander, grass, pollen & smoke and post nasal drip & nasal congestion.
This Sinus Rinse is a natural saline nasal wash. Using a high volume, low pressure nasal wash is an effective way to irrigate the nose according to current medical studies. Nasal irrigation is also an effective way to cleanse mucus from the nose, making other medications more effective.
NeilMed sinus rinse is an easy squeeze bottle system that allows you to deliver the saline solution with positive pressure to clean the nasal passages thoroughly (Please note: this pack does not contain a bottle), while maintaining your head in an upright position. You have complete control of the pressure and volume of solution, ensuring a gentle, soothing and therapeutic experience. Daily rinsing, or twice daily rinsing is safe and will keep your nasal passages clean, healthy and open.
Provides a gentle, soothing and therapeutic experience

Effectively cleans the nasal passages thoroughly

Makes other medications more effective

Use daily or twice daily, follow the directions on the pack

Treats nasal allergies, dryness & hay fever, post nasal drip & nasal congestion

Suitable for sinus pressure & nasal stuffiness
About Allergic Rhinitis
Seasonal allergies, often called rhinitis or hay fever, can have a significant impact on a patient's quality of life and has a significant burden on the healthcare system. Symptoms such as sleep disturbance and daily fatigue, along with inappropriate use of antihistamines, can result in impaired performance at school and work.
Rhinitis is generally divided into two groups: allergic and non-allergic. Differentiating between allergic and non-allergic rhinitis is critical, as half of patients prescribed antihistamines for their reported allergic rhinitis have symptoms that are not due to allergy.
It is important to use testing for allergen sensitisation to help you decipher allergic from non-allergic rhinitis. These results, along with a physical exam and medical history, can ensure that patients receive appropriate treatment sooner, as well as helping to reduce avoidable antihistamine use.
Symptoms of allergic rhinitis
Allergic rhinitis typically causes cold-like symptoms, such as sneezing, itchiness and a blocked or runny nose. These symptoms usually start soon after being exposed to an allergen. Some people only get allergic rhinitis for a few months at a time because they're sensitive to seasonal allergens, such as tree or grass pollen. Other people get allergic rhinitis all year round.
Most people with allergic rhinitis have mild symptoms that can be easily and effectively treated. But for some people symptoms can be severe and persistent, causing sleep problems and interfering with everyday life. The symptoms of allergic rhinitis occasionally improve with time, but this can take many years and it's unlikely that the condition will disappear completely.
Our recommendation is to replace the bottle every three months. Use only as directed, if symptoms persist see your doctor/healthcare professional. Always read the label.
Dosage

Fill the clean bottle with the designated volume of commercially bottled or previously boiled and cooled down water.

Cut the sinus rinse mixture packet at the corner and pour its contents into the bottle

Standing in front of a sink, bend forward to your comfort level and tilt your head down.

Ingredients

120 regular premixed packets of pH balanced sodium chloride & sodium bicarbonate mixture (USP grade, natural ingredients, isotonic, preservative & iodine free)