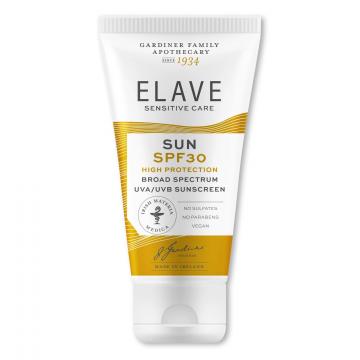 Elave Sun SPF30 100ml is an allergen-free, high daily UVA and UVB protection system that is EU compliant and, if used as directed, prevents long term sun damage of the skin. If used as directed below and with other sun protection measures Elave Sun SPF30 decreases the risk of skin cancer and early skin ageing caused by the sun and absorbs 97% of UVB radiation that causes sunburn. No sulfates, SLS, soap, perfume, MI, alcohol, colours & more
Product Features
Available in 200ml and 100ml travel friendly pack
Suitable for use on eczema/dermatitis prone and sun-sensitive skin
Water-proof, broad spectrum UVA/UVB SPF30 sun protection
Enriched with naturally soothing and nourishing botanical extracts
Paediatrician approved and suitable from newborn onwards
With Vitamin's B5, C & E to protect against environmental damage
Lightweight, oil-free formula prevents clogging of pores
Beneficial for all skin types even sensitive skin
Dermatologically approved & safety tested anti-irritation formula
Suitable for use during pregnancy
Certified cruelty free & vegan
How To Stay Sun Smart This Summer
There is no such thing as a safe tan. Tanned skin is damaged skin, pure and simple. Melanin is the brown pigment that causes tanning and is the body's way of protecting skin from burning. UV damage causes premature ageing, wrinkles and cancer, particularly in very fair, freckled or delicate Type 1 and Type 2 skin.
If you get too much sun, and particularly if you do not have the protection of a good, high SPF broad spectrum sunscreen, you will get burnt. Most people, particularly those who are not accustomed to living in a hot, sunny climate, will have experienced sunburn at some time in their lives. But how does this happen?
When UV rays damage the skin, blood vessels dilate to increase blood flow and bring in immune cells to try and repair the injury. This causes the redness, swelling and inflammation we associate with a sunburn. The sunburn will eventually heal, but some of the surviving cells will have mutations that escape repair.
To relive the torture of 'devil's itch' start treatment right away
It is easy to get too much sun without even really noticing it, but once you do realise you are sunburnt it is important to begin treating it as soon as possible to relieve the discomfort. The first thing you should do is to get out of the sun, preferably into somewhere cool and shady indoors, and follow these tips: 
Take frequent cool (not freezing cold) baths or showers to relieve the pain. Gently pat yourself dry, but leave a little water on your skin, then apply a moisturiser containing aloe vera to help trap water, ease dryness and soothe the skin.
Elave Botanical Aftersun is an extremely gentle and easily absorbed formulation containing cooling menthol and soothing aloe vera. This light, non-greasy formula contains lots of nourishing ingredients, including antioxidant vitamin E and natural glycerin, to repair and recondition all skin types.
If a particular area feels especially uncomfortable, you may want to apply a hydrocortisone cream that you can buy from a pharmacist. Do not treat sunburn with products such as benzocaine, as these may irritate the skin or cause an allergic reaction. Apply as directed by your pharmacist.
Consider taking aspirin or ibuprofen to help reduce any swelling, redness and discomfort, and drink lots of water. A sunburn draws fluid to the skin's surface and away from the rest of the body, so drinking extra water when you are sunburned helps prevent dehydration.
Blistering means you have a second-degree sunburn. Blisters start to show up between 6 and 24 hours after UV exposure and might persist for up to a week. Their function is to help your skin heal and protect you from infection, so do not pop them. They will heal on their own. If you have severe blisters and pain, contact your GP.
Itchiness is a sign that your skin is sloughing off dead skin cells and starting to heal. Resist the urge to scratch or peel your skin, as this could cause further damage or infection.  Calm the itch with a cool shower, cold compresses and lots of aloe vera. Do not put ice on your skin, as this inhibits healing.
Take extra care to protect sore sunburned skin while it heals by wearing light, tightly woven fabric when outdoors. If you can hold the fabric up to a bright light and not seen any light coming through, that is a good choice. And, of course, stay in the shade and wear an SPF50+ sunscreen at all times.
Directions

Apply 15 minutes bfore sun exposure. Re-apply to skin at least every 2 hours.

Ingredients

Aqua (Purified Water), Homosalate, Ethylhexyl Methoxycinnamate, Ethylhexyl Salicylate, Zinc Oxide (Nano), Glycerin, Pentaerythrityl Distearate, Butyl Methoxydibenzoylmethane, Sodium Ascorbyl Phosphate (Vitamin C), Dicaprylyl Carbonate, Glyceryl Stearate, Magnesium Aluminum Silicate, Sodium Stearoyl Glutamate, Tocopheryl Acetate (Vitamin E), Benzyl Alcohol, Phenoxyethanol, Hydrogenated Dimer Dilinoleyl/​Dimethylcarbonate Copolymer, Panthenol (Vitamin B5), Caprylic/​Capric Triglyceride, Pyrus Malus (Apple) Fruit Extract, Prunus Armeniaca (Apricot) Fruit Extract, Vanilla Planifolia Fruit Extract, Dipteryx Odorata Seed Extract, Coffea Arabica (Coffee) Seed Extract, Cocos Nucifera Fruit Extract, Xanthan Gum, Bisabolol, Disodium EDTA, Citric Acid, BHT, Sodium Citrate

Storage Information

Do not store above 25c, away from direct sources of heat and humidity. Keep in original container